Tow vehicle selection is one of the most important decisions of a man's life. From selecting the right tow vehicle to the point of adjustment and maintenance it can take a lot of effort on your part. If you are looking to buy a new truck or an enclosed trailer then you need to have knowledge on how to buy the trailers and the after-sales maintenance. Towing the diamond enclosed trailers can be an easy feat for anyone who follows proper guidelines.
Towing isn't rocket science but you got to learn how and which technology makes towing easier. Once you buy your new trailer, ask the retailer or the manufacturer about the towing and the vehicle specifics.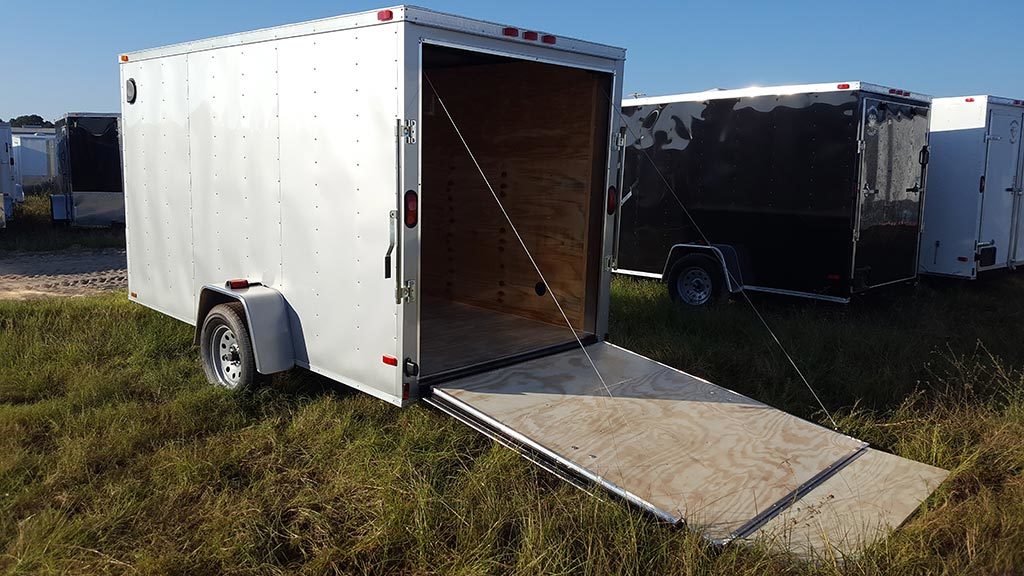 Brief Guidelines – How to Tow The Diamond Enclosed Trailers?
Two of the most common things to need to keep in focus is your common sense and ability to drive with a trailer. When you are towing, your driving speed is half of the average speed. It can seem scary at first but if you are driving a 6×12 v nose enclosed trailer (or any other average size) then it's comparatively easier to handle the wheels.
GCWR: Gross Combined Weight Rating
The first and foremost thing you need to focus on is the Gross Combined Weight Rating. The vehicle weight and configuration are important at this stage. The weight of the vehicle is not the only focal point here; you need to measure the weight of the passengers, cargo load, and the diamond enclosed trailers too.
The towing weight is directly proportional to all of these details but it is not necessary to follow the exact guideline. However, one thing you need to be certain about is that the weight in the vehicle and trailer is balanced and also that the enclosed trailer is not overloaded.
Towing depends on the configuration too like;
Drivetrain
Wheelbase
Engine
Hitch and gear ratios
So down below are some pointers that will help you in your first-hand experience.
Heavier vehicles diminish the towing capacity like four-wheel-drive trucks and SUVs. If you want a rear-wheel drive then ensure it has a maximum towing capacity.
Trucks and SUVs with a longer-wheelbase have better control after an enclosed trailer is hooked up.
Diesel-powered trucks are preferred for towing enclosed cargo trailers because they have higher tow ratings than the gasoline substitutes.
Focus on the axle ratio. A 6×12 tandem cargo trailer for sale, when available, is a better option than one with a single axle because of the better pulling power.
How To Choose The Perfect Trailer To Tow?
The trailer comes in a variety of dimensions. Each dimension has a specific set of features that makes its function unique from the other trailer.
Flat trailers: Open or Enclosed?
General cargo loads are carried on the flat trailers. Usually, a single-axle enclosed trailer is a preferred choice for a lighter load, double-axle diamond enclosed trailers has more durability and strength to carry the extra weight. This is why enclosed trailers are the best for hauling heavy cargo despite their own weight. A single-axle trailer can easily carry a load up to 2,500 pounds.
How To Tow Without a Vehicle?
Generally, you can attach a tow bar to the rear-wheel-drive, a manual-transmission vehicle and have it towed in neutral.
Similarly, a four-wheel-drive vehicle can be towed this way with a two-speed transfer. Also, do check your vehicle's owner's manual to see if your vehicle has the towing capacity or not.
Conventional Hitches And Aalls
For a trailer, there are 5 different classes. But most cars have a Class 1, 2, or 3 hitches that range up to 8,000 pounds. If it's a heavier vehicle like a truck or SUV then it can work with a Class 3, 4, or 5 i.e. up to 12,000 pounds.
Each conventional hitch has a unique sized receiver tube which connects the ball and ball mount. For instance
Class 1 and 2 have a 1.25'' receiver tube
Class 3 has a 2'' receiver tube
Class 4 and 5 have 2- or 2.5'' receiver tubes
But it does all depend on the configuration. You need to remember the trailer level, front and back, the ball mounts are purchasable when needed. The ball size is determined by the trailer weight.
How To Hook a 6×12 Tandem Cargo Trailer?
Even if it's your first time towing a trailer, then just take a deep breath and make sure to follow these steps;
Begin with securing the ball mount in the hitch's receiver tube.
Line up the vehicle.
The trailer couple must be higher than the ball on the hitch.
Reverse slowly so that ball is under the trailer coupler.
Once the two-vehicle is parked, use the parking brake.
Twist the trailer jack (on the trailer tongue) and you will be able to lower the couple onto the ball.
Use a latch to secure the coupler.
Lift the tongue, check whether it's a good fit.
Raise the trailer jack and move it out of the way.
These steps require practice and precision otherwise it's all good to go. Moreover, do make sure to secure the safety chains in a crisscross pattern for stability.
Towing The Trailer on The Road
Once you start driving the vehicle on the road, you need to follow an extra set of precautions as well.
Plan a route with less dense city traffic.
Always fill up the tank before towing the enclosed trailer to the vehicle. It is easier.
Keep a roadside safety kit for e.g. flares, flashlight, reflectors, or even first-aid supplies.
Always stick to the right lane.
Take a wider turn to avoid overturning.
Consider the length of the trailer before parking the vehicle.
Downshift transmission to a slow speed when going downhill.
Reversing the vehicle while towing is a tough job. There's no easy way to do it. Therefore you can practice it is to grip the steering wheel from the bottom.
Always remember to put a little more effort into your driving skills to avoid any uncertain accidents. so get a firsthand experience to tow a trailer and keep an eye out for Diamond Cargo Trailers for shipping.